An official ribbon-cutting is set for Dec. 14 at noon.
A Myrtle Beach father-son duo is tapping into the growing market of the hemp industry, recently opening CannaBetter.Farm, a full-service hemp and CBD dispensary in the Myrtle Beach area.
The dispensary, located in the shopping center at Forestbrook Village off Belle Terre Boulevard, features a variety of hemp, CBD and other products derived from cannabis.
Matthew Campbell Sr. and his son, Matthew Campbell Jr., started the business venture more than a year ago. Matthew Campbell Sr. said CannaBetter.Farm had a soft opening in August.
"We spent solid a year-and-a-half on research and development, product development, concept development, the packaging, all the different elements," Campbell Sr. said.
Businesses like the one the Campbells are running became possible after the Agriculture Improvement Act, more commonly known as the Farm Bill, was signed into law by former President Donald Trump in 2018. According to the U.S. Department of Agriculture, the 2018 Farm Bill established hemp as a regulated commodity. Botanically, hemp and marijuana both refer to the cannabis plant, but hemp by definition contains less than .3% Delta-9 Tetrahydrocannabinol, or THC, the federally-illegal compound found in marijuana. The 2018 Farm Bill also allows for the interstate transportation and shipment of hemp in the United States, according to the Federal Register.
"The Farm Bill made legal anything that is derived from hemp, which is less than .3% THC and the final product is less than .3% THC," Campbell Sr. said. "Both things have to be true. It has to be farmed and processed in accordance with the Department of Agriculture and state level."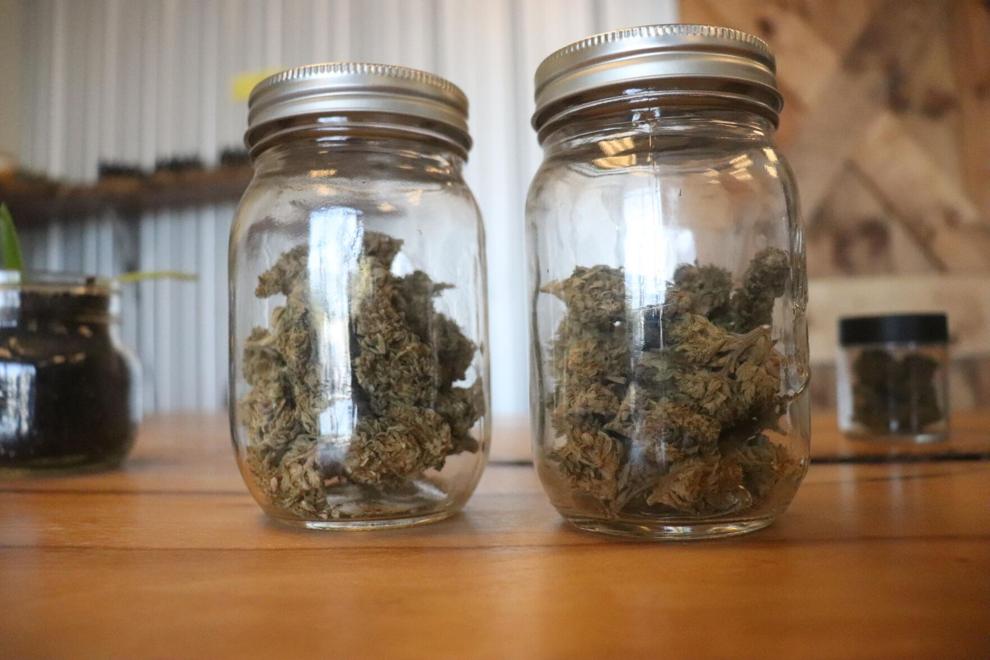 Despite the issues that came with pandemic, Campbell Sr. said it worked in their favor while they were going through their business plan.
"When we started, it was all about planning and looking at the different requirements in South Carolina for hemp products, the processor's license, ag laws, starting at the basics, and educating ourselves on what was possible," Campbell Sr. said. "We finally decided that a retail store, a dispensary concept store would be the best possible thing in this market."
The Campbells are no stranger to using hemp and CBD products. The father and son duo both use and rely on hemp and CBD products for a variety of reasons, including to treat epilepsy. However, Campbell Sr. said they struggled to find products that were suitable for them.
"You hear that story time and again," Campbell Sr. said.
For his son, it was a general interest in the product that led him to join his father in this business venture.
"There's so much new stuff that's constantly coming up and changing," said the son. "It's interesting to see everything change and kind of grow as an industry."
Campbell Sr. said with a dispensary-type business, there is the opportunity to cater to a wide range of cannabis appetites.
"Some people want something intoxicating or some want something relaxing or will relieve stress," Campbell Sr. said. "It's all very personal and our personal relationships with the products is very helpful."
Familiarity with the products is a focal point for the Campbells. They take pride in their knowledge of what they're selling. They want to educate those coming into their store.
"Whether it's in Colorado, Oregon or South Carolina, we know exactly what we're getting," Campbell Sr. said.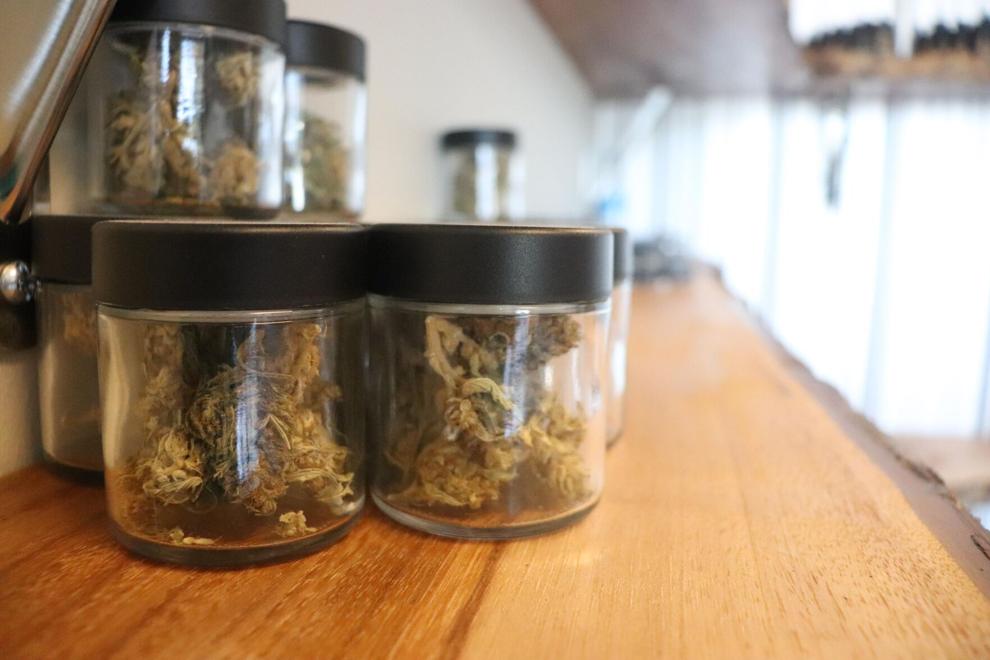 While the regulations put forth in the 2018 Farm Bill do not specify an age restriction for the usage of hemp products, the Campbells decided to sell to customers who are 21 years old and up.
"We've just chosen the most conservative path and the most compliant path," Campbell Sr. said. "These are adult products for adults."
Campbell Jr. added that the age limit is a general consensus in similar businesses across the country.
"Anywhere that medical marijuana or cannabis is being sold, it's generally 21 and up," Campbell Jr. said.
In recent years, CBD products, particularly oils and topicals, have become available at select stores and even gas stations. However, Campbell Sr. said CannaBetter.Farm has some of the best oils and a wide range of products available.
The store also sells products made with Delta-8 THC, an unregulated cannabinoid compound found in cannabis plants that's similar to the federally-illegal Delta-9 THC found in marijuana. While it's not as potent, Delta-8 THC can still get a user "high."
"Our gummies and some of our smokable products, that's what you'd think it was," Campbell Sr. said.
While the flower products at CannaBetter.Farm are smokable, Campbell Sr. said they don't accentuate the smoking aspect.
"We do have products that are suitable for use as concentrates the way they use concentrates that are more traditional," Campbell Sr said. "The flower is not smokable by intent but you certainly can."
For those that have concerns or questions, the Campbells are more than happy to share any research they have done on their products as well as show potential customers lab findings on their products. On the business's website, there is an entire section dedicated to compliance and certificate of analysis.
"It is a bunch of paperwork but it shows the federal for the .3% THC but also independent testing on microbial contamination," Campbell Sr. said. "It's a full panel of testing to make sure the products are clean and suitable for use."
Campbell Jr. said he and his father take a lot of pride in the products they have available.
"These products are products that we've spent a lot of time thinking about and testing," Campbell Jr. said.
Along with building relationships with the people that supply CannaBetter.Farm with their products, the Campbells also want to build relationships with their customers, especially veterans. Matthew Campbell Jr. is a disabled veteran and his father said they want to help veterans out in anyway they can.
"Veterans get a steep discount, they get 30%," Campbell Sr. said. "But if a veteran couldn't afford these products and relied on them for their problems due to being a veteran, which includes almost everything you can name, we'd be very happy to help them with steeply discounted or free product if we needed to."
Campbell Sr. also extended that offer to anyone with a medical need that feels they need these items but never could either access or afford CBD and hemp products.
"They should come by the shop and do our best to help them out," the father said.
Campbell Jr. suggested customers check out the Veterans and Special Needs section under the "Hemp For" tab on their website for more details about finances and affording CannaBetter.Farm products.
While things have been going well so far for the Campbells, they are aware that there are people out there who do not support their products and might even be turned off by their logo, a hemp leaf. The Campbells understand that the product might not be for everyone, but after having first-hand experience with the benefits of using hemp and CBD products, they still don't get the constant negative connotation that surrounds the hemp and CBD industry.
"Having seen what this can do for people, not everyone obviously, but some people and how drastically it can affect their lives, I just don't understand how anybody could be against it," Campbell Jr. said.
The father agreed with his son, adding that he doesn't understand why people would want to prevent other people from feeling a sense of relief.
"It is a plant that has brought a great deal of pleasure and relief to people's lives," Campbell Sr. said. "If you personally have an aversion to things that are helpful to you or take your pain away or are mildly intoxicating, I can't convince you. But gosh, why would you prevent other people from getting relief that they want."
The dispensary is set to hold an official ribbon-cutting ceremony on Dec. 14 at noon. The dispensary is currently going through a final redesign ahead of the ribbon-cutting ceremony, Campbell Sr. said.
"We have some new products coming in," Campbell Sr. said. "We got the store pretty much finalized so now we're ready for the real grand opening."
The dispensary will be offering a 10% discount on all products throughout the day of the ribbon-cutting ceremony.
CannaBetter.Farm Dispensary is located at 3481 Belle Terre Blvd., Unit #B4, in the Myrtle Beach area across from the Food Lion in the Forestbrook Village. The dispensary is open 10 a.m. to 7:30 p.m. Mondays through Saturdays and from noon to 7:30 p.m. on Sundays.