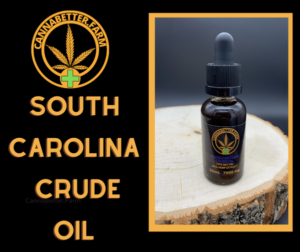 One of our favorite products here at CannaBetter.Farm Ltd. Co is our South Carolina Crude Oil. Made from a very 'raw' hemp extract, processed as little as possible. It is 'T-Free' which means there is no measurable trace of Delta-9 THC, the component of cannabis that makes you feel 'high'. The base Concentrate is known as 'CBD Crude' and is mixed with coconut MCT oil (which is a purified coconut oil, ours is organic), three parts oil to one part Crude.
Lots of people swear by it for lots of things. Anything problem or irritation on your skin, it's worth a try. Your body has something called an 'endocannabinoid system', which can get out of whack and need a tune-up. If your skin is having a problem, rub some on! This Carolina Crude is also popular with some of our local gym members, it's great for anything creaky or aching, rub it on and see if you feel a difference! To be honest we rub it on bug bites and anything else you might rub oil or salve on. It has replaced several topical products in our home.
Our South Carolina Crude is a South Carolina product, we get the Crude from S.C. Botanicals in Pickens, South Carolina. They are a Licensed Processor under the South Carolina Hemp Program. This crude is produced from South Carolina Hemp, and it is an excellent product, Best-In-It's-Class. It is better because we don't do anything to it. It is mixed, not manufactured. Crude Hemp Extract and MCT Oil, not one single other thing.
It gets clumpy and gloopy. You have to warm it up sometimes to get it to flow. The dropper it comes with can barely pass it because it is so thick. That thickness and richness is what you want. I know this product has more of its extract than any other product of its kind because it is impossible to put more and still have something semi-liquid. And to be clear and transparent, Crude is not 100% CBD, it is a 'soup' of all of the things in a Hemp plant. We think that makes it MUCH better than pure CBD, and it does have a lot; our Crude is about 42% CBD (before it is mixed with oil).
Our 30ml bottle has seven and a half grams, 7.5, which is 7,500 milligrams. There are tons of creams and lotions out there that have 100 milligrams per bottle or jar. 1000 is considered strong by market standards. We have 7.5 to 75 times the extract per bottle as most brands. This is just the truth, check your labels.
It CAN be taken by mouth, but it is TERRIBLE, bitter and boy does it stick to the palate, you can taste it for an hour after you take it. Most people use it topically. Some people want it BECAUSE it is bitter; cannabinoids are bitter and the fairly foul taste lets you know its 'the real thing'.
We see our products changing lives out there in the world, and it makes us very happy! Stop by the store and find out what we can do for you!
As always I am Matt Campbell Sr., of CannaBetter.Farm Ltd. Co 843-467-4899, 3481 Belle Terre Blvd, Suite B4, Myrtle Beach, SC 29579. Reach out to me directly anytime if we can help you or your family with anything. Store Hours: Mon-Sat: 10AM – 7:30PM, Sun: 12PM – 7:30PM